Welcome to the Worked all New Hampshire Counties page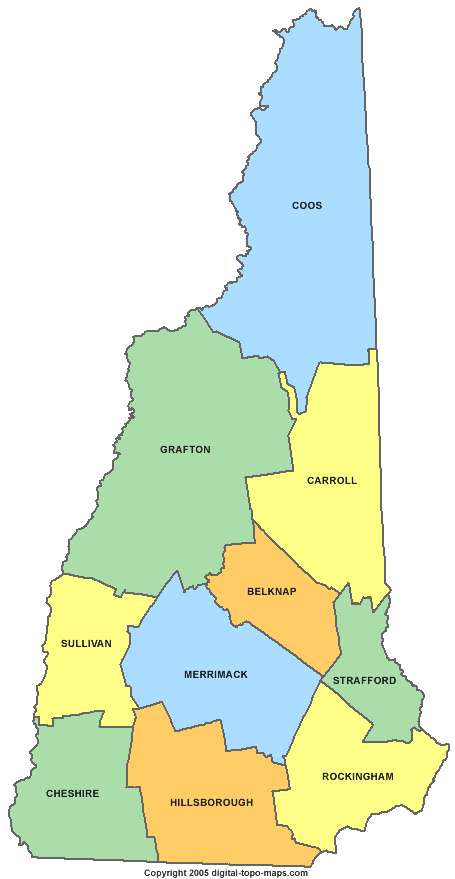 The Counties Names are: Belknap, Carroll, Cheshire, Coos, Grafton, Hillsborough, Marrimack, Rockingham, Strafford, Sullivan.

Rules
Work and Confirm a QSO with each of the 10 Counties.
Award is open to All Amateur Radio Operators
All Bands and Mode are allowed. Mobile and Portable Units allowed.
Please no Repeater, Digipeater or any relay contacts.
Multi point contacts allowed.
A QSO from NM1JY which I believe to be a Land based Submarine Museum, I will count as a Contact from Rockingham County.
You do not need to send your QSL Cards, as long as you have the QSL's in your possession. Please Have 2 General Class or Higher Amateurs not related to the applicant, sign the Application verifying they have seen your QSL Cards.
If you are unable to find two witnesses you may send your QSL Cards and I will return them with your award.
Endorsements will be given for CW, Digital or Single Band. No extra Cost for Endorsements.
Cost: $1 USD For North American Amateurs (US, Canada, Mexico); $4 USD or 4 IRC's for DX. The Cost is to only offset the price of postage to mail the award.
Please send the application and appropriate cost to Stephen Hans, KC2VUE 25 Delamater Way Troy, NY 12180.
I will use the address on QRZ.com to send the Award and QSL Cards back, unless you specify otherwise.


Licensed Hams per New Hampshire County(as of 10/2010)
County
# of Hams
3 letter Abbreviation
5 Letter Abbreviation
Belknap County
340
BEL
BEL NH
Carroll County
210
CAR
CAR NH
Cheshire County
339
CHE
CHE NH
Coos County
125
COO
COO NH
Grafton County
328
GRA
GRA NH
Hillsborough County
1648
HIL
HIL NH
Merrimack County
550
MER
MER NH
Rockingham County
1146
ROC>
ROC NH
Strafford County
329
STR
STR NH
Sullivan County
203
SUL
SUL NH
Total NH Hams
5218
Other Info

Receiving the Worked All New Hampshire County award does not guarantee you sufficient evidence of working All of New England(WANE)County Award or working All US County Award (USA-CA) as their rules may be different. Please check with the respective links below to see their rules before submitting evidence of Counties worked to their Awards Manager.

If my information on NM1JY is false please let me know and I will make the forementioned rule Void.
Please be Aware of sending Cash through the mail, I will not be responsible for lost or stolen cash if sent through the mail, checks or money orders would be more appropriate.

The Award has a Green Border with the State Motto on top and the Old Man on the Mountain at the Bottom. Printed on a heavy grade paper. The NE QSO Party officals prefer the 5 Letter abbreviation when submitting loogs for their contest.

Links

Worked All New Hampshire Award Application
The USA-CA Official Rules Page
County Awards of the United States
Worked All New England Award (WANE)
New England QSO Party Homepage.


Thank you for visiting my page, If you are a County Hunter Like I am good luck on Contacting All the Counties.


If you have any questions please feel free to contact me at:
kc2vue@arrl.net
kc2vue@yahoo.com
I will do my best to give you a response within 48 hours.